Délais de livraison :
Within 2 weeks
/
Within 4 weeks
Plaque pré-assemblée : 30 cm x
The designer Samir Mazer imagined for Ateliers Zelij Creative TRC7 and its Creative TRC7-2 variant, these designs reveal a strong graphic design to sublimate any space.
It is available in 4 color variations, including a version punctuated with colored signatures.
An exclusive design by Samir Mazer for Ateliers Zelij without permission to reproduce.
The TRC7-2 can be produced in any color from our color chart, go to "Bespoke"
Uses : 

Possibles installations :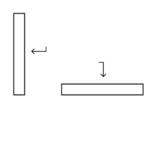 Uses : 

Possibles installations :